Bolt's baton and Beckham's torch: buy into the Games
Tweet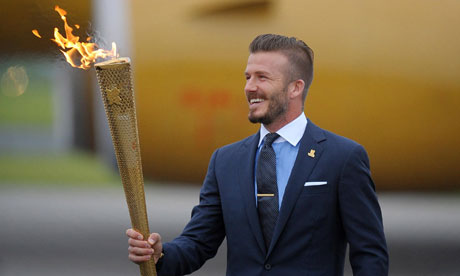 Roll up, roll up. From relay batons touched by Usain Bolt to volleyballs covered in authentic sand from Horse Guards Parade, everything must go.
Even before the opening ceremony on 27 July, London 2012 organisers have announced plans to auction off Olympic torches and other "rare and remarkable" items of sporting memorabilia to subsidise the £2bn cost of staging the Games.
The London Organising Committee of the Olympic and Paralympic Games has unveiled plans to auction off not only torches used by celebrities among the 8,000 people carrying the flame on its 70-day journey around the UK, but also a range of other items used in sporting competition during the Games. Torches such as the one with which David Beckham lit the flame for the first time in the UK will come in a presentation box, complete with "metallic shards" signed by the bearer. Last night bidding for it was already in the thousands.
Other items on sale will include the tennis balls used at Wimbledon.
The money will subsidise the cost of the torches carried by members of the public. Organisers have been criticised for charging up to £225 for each torch, but have argued they are still subsidising the full cost. "The London 2012 auction not only offers fans the chance to own a piece of history but helps subsidise the cost for torchbearers," said Locog's commercial director, Chris Townsend.
Its chief executive, Paul Deighton, has promised MPs the budget will balance but has admitted margins will be tight. Locog is on target to hit its ticket revenue levels, despite having more than 1.5m left to sell, and has raised £700m in sponsorship.
The plan to auction torches casts new light on Locog's reaction to the outcry after several torchbearers auctioned their torches on eBay. The organisers said only that those who had bought the torches could do with them as they pleased.

Think the Olympics is to do with the people? Don't kid yourself by Carol Midgley
Tweet
Joy Tomkins, a grandmother from Norfolk, learnt a lesson this week about the true Olympic spirit. Mrs Tomkins, 81, knitted a small jumper for a second-hand doll to put in a charity sale priced at £1. I suppose you can guess her foolish and insolent mistake? Yes, she put coloured rings and the words "GB 2012" on the jumper. This, tsk, breaches strict rules on Olympics copyright so trading standards officers advised her to withdraw it. Quite right too, though I think tarring and feathering would set a better example. Many are destined to profit from the Olympics, but this doesn't include church fairs in Downham Market.
It is faintly hilarious that members of the public who put their Olympic torches on eBay this week were accused of "cashing in" and violating the Olympic spirit. Why shouldn't they? Plenty of other people do. The official Olympics memorabilia shop that the design critic Stephen Bayley described as looking like "a poundstore in a post-industrial hell" is charging prices that would make a pirate blush.
I have already moaned in print about a 10in teddy bear costing £85 when a similar toy elsewhere is about £12, but there are many other examples. A flimsy canvas bag at £14; a London skyline paperweight at £100, a scatter cushion £85. On the High Street it gets far more brazen. Which? has warned that some retailers are asking three times the recommended price for Olympics merchandise.
Given that money and "brand equity" has talked loudest in the run-up to these Games, how can we even call this unsporting? Legal experts say that the London 2012 restrictions are the most draconian yet placed to protect sponsors' brands and rights. Athletes must not tweet about snacks that are not official brands. Roadside traders must cover any unofficial brand names. Visitors are prohibited from uploading photos to Facebook from within the Olympic village.
Small businesses fear that the merest transgressions will have the brand police knocking at their door. Webbers Property Services, a small estate agents in the West Country, was threatened with legal action when, to mark the torch relay passing outside, it created window displays featuring Olympic rings made from plastic gym hoops and torches crafted from old for-sale signs. Locog demanded that they remove them because they "undermined" the rights of official sponsors. Well, we're at an interesting juncture if, say, Lloyds TSB and Cadbury really do feel sabotaged by five school Hula Hoops.
We kid ourselves if we pretend that these are the people's Games. They are the sponsors', the brand builders'. I couldn't help but notice that as the American singer Will.i.am ran a leg of the torch relay (why, by the way?) in Taunton he simultaneously tweeted his gratitude to Coca-Cola. "Thank you Coca-Cola for this once-in-a-lifetime experience", he gushed. Rock'n'roll.
In fairness these companies have put up £2 billion and have a right to protect their investment. But heavy-handedness rather takes the fun out of things, hence the joke I heard yesterday that anyone spotted with a non-official product in the stadium will be shot on sight with a Taser gun.
For what it's worth I think that the 2012 Olympics will be brilliantly memorable; I'm looking forward to it. But I won't fall for any of that "Olympic magic" guff. The organisers and the businessmen have no room for sentimentality so why should the public with their souvenir torches behave any differently?
If you go on to eBay and make a profit then good luck to you. It's what it's all about.
Via (£)